RESERVE YOUR BMW I7 NOW AT BMW KINGSTON
THE BMW i7: THE FIRST-EVER FULLY-ELECTRIC BMW i7 SEDAN
Electric has a new flagship - introducing the all-new BMW i-7 sedan. Fusing electrifying driving dynamics and ground-breaking technological innovations, the all-new seventh-generation BMW 7 series is ready for a new era of expressive luxury. Boasting an impressive 536 hp, 549 lb-ft of torque, and a 498km fully electric range, this cutting-edge sedan sets a new standard for performance and refinement.
TAKE CHARGE OF A NEW ERA
Combining electrifying performance and a powerful stance, the i7 xDrive60 reaches 100 km/h in only 4.7 seconds, and does so in silence and free of local emissions thanks to the innovative eDrive propulsion concept.

Experience the maximum efficiency of a new generation, with lightweight construction methods and an aerodynamic design that takes your further faster.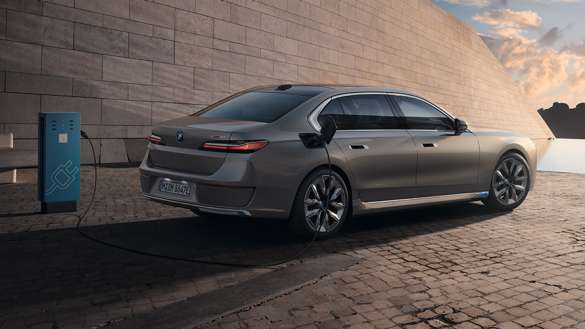 HOME CHARGING FOR UP TO 498KM

BMW helps make charging at home easy, smart and ready for the future. A standard home outlet is all you need to get charged up and ready for any journey. But if you're looking for something faster, BMW electric vehicles are equipped to accommodate the most common and convenient home and public chargers.

For optimum charging, you can install the recommended level 2 wallbox, which can achieve a 10% - 100% charge in just eight to ten hours. A universal level 1 outlet (120V) is also an option, but is recommended for top ups only. On the road, a level 3 DC charger is available at most public chargins stations and will achieve a 0-80% charge in just under 40 minutes.
EXTERIOR

It's like no electric car you've seen before. And it props an iconic front design with crystal headlight and Swarovsky crystal elements. BMW DNA runs through and through with an illuminated kidney grille in the front and narrow L-shaped rear lights in the back.

Elegantly futuristic details captivate the eye, with chrome elements and flowing lines highlighting the i7 like a precious jewel. Optical blue design elements are the finishing touch that make this sedan stand out on the road.
INTERIOR

The interior lets your lavish in even great luxury. Multiple screens unify under a single 14.9" BMW curved display, extending horizontally across the cockpit for an unmatched ease of use.

For an incomparable ambience, the sky lounge glass sunroof allows for the interior to be flooded with natural light during the day, while dynamic light effects incompess the interior during the night.

Road-trip ready, the 31.3" BMW theatre screen with Amazon Fire TV built-in creates a unique panoramic rear seat entertainment experience, perfect for long journeys and hours of uninterupted fun.
INNOVATION MEETS TECH

Lean back, relax and let the i7 take you on an unforgettable experience. Elegantly integrated into the rear doors, two 5.5" touchscreens allow you to conveniently operate every perimeter, like the infotainment system, 31.3" BMW theater screen, automatic air conditioning, seat settings, and more.

Up to 35 tweeters, speakers, subwoofers, and shakers are integrated into the Bowers & Wilkins Diamon Surround Sound System, to create a 4D audio experience with a maximum output of 1,965 watts. In the all-new BMW i7, every journey becomes a new fascinating event to remember.